Aural Thrills Audio Tube Active Rca
Listing ID: lis9g8ch
Classified
Listed
·
212 Views
| | |
| --- | --- |
| Condition | NEW |
| Payment methods | |
| Ships from | Garland, TX, 75042 |
| Ships to | Worldwide |
| Package dimensions | 14.0" × 8.0" × 4.0" (6.0 lbs.) |
| Shipping carriers | USPS or UPS |
| Shipping cost | Free |
| Original accessories | Box, Manual |
| Average | Research Pricing |

ATA Tube Active

on sale now 
Tube Powered Biased Cable System
        

We truly believe that Aural Thrills Audio
has created the finest cable in the world bar none. We know that there is no
other cable like it in the world, period. In simple terms the shield is
actively powered by a real tube amplifier. In complex words, the sound is
indescribably incredible. If you have never splurged on a high end
interconnect, this is the time. If you like the sound of tubes you will love
this cable. Tube rolling, power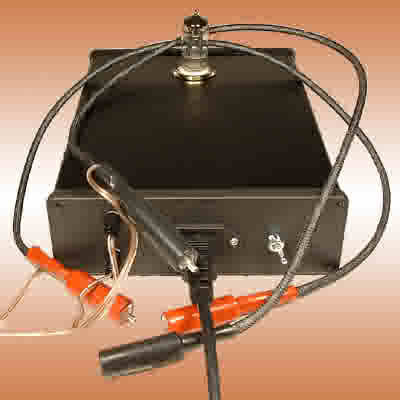 cord rolling, interconnect rolling are all a reality for the first time in
an active interconnect. The concept of a tube powered cable has never been
seen before. After much research and listening tests, the impossible has been
achieved. Other cables are just wire in comparison. This Tube Powered BCS is
a reality machine.
Compared to my
other active cable this is without a doubt the best sounding. As usual it is
much more difficult and expensive to make. It uses house voltage to power
the shield. It is an actual tube amplifier in all respects including 12.6v
filament transformer and 240v power transformer. The AC filament gives it a
very rich tube sound. The refined power supply activating the shield adds more space than any other
model I make. Besides tube rolling you can also change the power cord on
this model giving you the ultimate control.
So how does it sound? Like a cable which is
a good tube amplifier instead of the low tech solid state offerings of other
companies. Extended highs and lows with imaging that only an active cable
can bring.  I dare you to compare this cable to the finest out there.
The shield is charged to 80 volts by a 12au7 tube amplifier which is coupled
to the signal lines via some specifically manufactured resistors. Musicians
step out of your speakers and into your room. Uncanny is the only way to
describe it. At times I have been startled by sounds contained in recordings
that seemed alive and in my room. Try out your favorite NOS tubes and you
will hear the differences just like in amps. Change to your favorite power
cord and you will again hear the difference just like in your amp. Nothing
else like it.
The signal lines are connected to the
shield by a pair of specifically manufactured resistors. What is created is
a pseudo balanced interconnect, as the shield is effectively neutral
relative to both conductors. Relative to the equipment ground, the shield
sees half the signal voltage swing. Einstein would ponder the following
question, what if the wires do not know that ground is ground? The results
are stunning!
The wire used is the same awesome
22awg used in our Bass Boss cable. I feel this cable has the best balance of
highs, lows, bass, and detail. The wire is surrounded by a poly shield
which is charged by the output of the tube amplifier.
We need to talk about the
importance of a good connector. Most connectors are made of
Brass. This is done because brass is easy to cast into the desired shape not
because it is a good conductor. Brass is a alloy of Copper and Zinc. Zinc is a
terrible conductor of electricity. For that reason we have developed a Brass
free Rca conductor which eliminates Brass form the signal path. It uses only the
same silver alloy that is contained in our wire as conductors. The base of our
exclusive Rca is made of solid Teflon, one of the best electrical isolation
materials around. It effectively blocks all outside interference from entering
your equipment through the Rca connection resulting in a quieter background.
Connectors of this quality costs $50 or more each from other companies. They are
standard on the Tube Powered BCS.



Exclusive AC Tube Powered BCS Design




High End Brass Free Silver
Connectors




Four runs of 22awg Wire




Oxidation protection




Active Silver Shield




Lifetime warranty




1m long




7 day return policy*



The care that goes into making a
pair of these is evident in the details and quality of materials being used.
we have isolated every sound quality by many, many, hours of critical
listening. From the solder, to the Rca connectors, to the wire being used, we
know exactly what each element brings to the sonic table. It is by careful
mixing of each harmonic ingredient that Aural Thrills Audio has arrived at
this design.
Just a word about Aural
Thrills
Audio. Having created fine cables for over
ten years we are devoted to being a
personal, upscale, company that builds custom products. Not many other
companies on Audiogon have stood the test of time. We run only one company, 24/7 and strive for your complete
satisfaction. Please check out our 100% positive feedback. The goal is to be the
best high end, custom audio company by designing and producing innovative products to order. Our audiophile grade of  wire is made exclusively for us and is created using
base metals of 4 nines or better. The innovative engineering and designs make us
a leader of high tech products.  In closing we want to thank all of my present
customers and look forward to making many new ones. Here is some recent
feedback about this cable.
Length
1m $799.99 USD
2m $849.99 USD
3m $899.99 USD


visit www.auralthrillsaudio.com for more information!




Hello Billardhockey,



The following transaction and feedback are going to be added to your

 account:
Hello Tom:



I am very happy and excited with your tube cable; as a matter of fact i don't
remember when was my last time that i have enjoy so much a change on my
equipment. Its unbelievable that my $3,000 cable has been replaced with your
cable. I replaced the AC power cable with a really good one and replaced the
tube with a 12au7 Amperex from 1958. With these two changes I have to tell you
that everything on your site is the truth.I am listening to music and forgot
the equipment.



CONGRATULATIONS!!!



Edwin Feliciano



====

Member: Bottlehead

Action: Bought from you

Catg: Interconnects

Item: Aural Thrills Audio ACS Tube powered



Submitted Rating: Positive

Submitted Feedback:

THE TUBE POWERED INTERCONNECT IS THE BEST! I HAVE USED HALF A DOZEN

 BRAND NAME CABLES OVER THE YEARS AND THIS ONE SURPASSES THEM BY A WIDE

 MARGIN.SIMPLY MAKES MY ENTIRE SYSTEM SOUND MORE LIKE LIVE MUSIC.WHAT MORE

 CAN ONE ASK OF ANY COMPONENT?
Hi,
I have run your cables about 100 hours now and vastly prefer it to the
not-too-shabby Signal Cable's Silver Resolution IC it replaces because
of its superior, relaxed presentation. It makes

listening to music more enjoyable at any volume level,
but especially at low levels where much more space
appears.

Again thank you for your work.
Eiton Kamelgarn


Tarrytown, NY


Tarrytown, NY


* email for details
Hi,

I received the cables, and as skeptical as I was when I purchased them, i
thought, all it could be is a cheap trial. Well, I must say I am extremely
surprised with the quality and the sound is so much better. The details of the
mid-range and top end was brilliant, and the bass was more pronounce. This is
one of the few cables that I have tried that handles any music you throw at
it.

Great job and thanks.





Richard.
I just wanted to let you know
that I have run this cable for about a week since breaking it in and it's a
keeper! After changing to a NOS tube and a really good power cord I was
simply amazed! Although the cable is not cheap, it is a true example of
great bang for the buck. With your money back guarantee and support I
believe this purchase should be a no brainer for every audiophile out there.
You can put me down as an enthusiastic convert. Great job! Don' forget us
when you're rich and famous…….       Gary, Arlington Va.
No questions have been asked about this item.
Return Policy
Return Window
Item can be returned within 7 days of receipt.
General Terms
Items must be returned in their original condition, with all included packing materials and no signs of use. Buyer assumes responsibility for all shipping return costs unless the item was not received as described.
Refunds
Buyer will receive a full refund in the original payment method less any shipping charges.
Special Conditions
Must be returned in as new condition
billardhockey member since February 2015
Aural Thrills Audio
Verified Dealer
| | | |
| --- | --- | --- |
| Last 12 months | 6 | 100.0% |
| All-time | 1692 | 100.0% |
Items from this seller