Sorry, this listing has ended.
You may like one of these similar items:
---
Audio Research SP-14 Classic Tube Pre [Expired]
---
---
Audio Research SP14 Tube classic pre amplifier with Phono as new condition: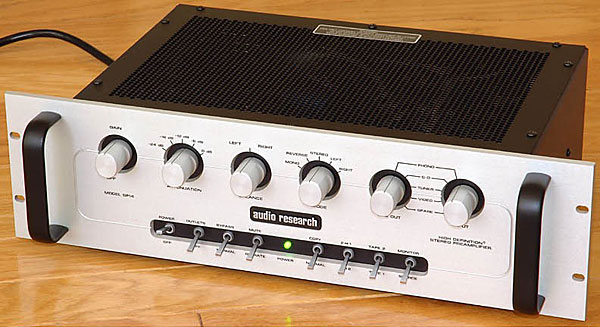 See Stereophile rave review at:

https://www.stereophile.com/content/audio-research-sp14-preamplifier
Classic Tube Pre desirable with RCA inputs and outputs recently factory serviced and ready for your enjoyment.

Specifications / Description:
Hybrid (tube/FET) stereo preamplifier with Phono section with one phono input, six line-level inputs, and two tape loops.
Specifications
:
Frequency response: 30Hz–40kHz ±0.3dB
(RIAA phono), 5Hz–50kHz ±0.5dB (line).
Distortion: less than 0.01% at 2V output.
Input impedance: 47k ohms standard, with user-adjustable resistance and capacitance (600pF as supplied) (phono); 50k ohms (line).
Output impedance: 250 ohms (main), 1000 ohms (tape-out).
Recommended load: 60k–100k ohms in parallel with 100pF (20k ohms minimum and 1000pF maximum).
Phono stage gain: 66dB (to main out), 46dB (to tape-out).
Phono sensitivity: 0.25mV at 1kHz for 0.5V output.
Line stage gain: 20dB (to main out), 0dB (to tape out).
Line sensitivity: 50mV RMS at 1kHz for 0.5V output.
Output level: 2V RMS 5Hz–50kHz, all outputs into 60k ohms (maximum from main output, 50V RMS at 0.5% THD at 1kHz into a 100k ohm load with 5V RMS high level input).
Phono overload: 200mV RMS at 1kHz (1000mV RMS, 10kHz).
Maximum input level (line): 20V.
Noise: 98dB below 5V RMS output, greater than 100dB below 1V RMS input (line), 78dB below 1mV input (phono).
Dimensions: 19" W by 10¼" D by 5¼" H. Weight: 12 lbs.

Price: $2995 (1990); no longer available (2010). Approximate number of dealers: 60.
Read more at
https://www.stereophile.com/content/audio-research-sp14-preamplifier-specifications#CG8JrBvxHoo0E3zF.99
It is best to call David and visit: www.weinhartdesign.com with questions in Los Angeles Showroom 310-472-8880 or on my cell after hours and weekends 310-927-2260 any time from 10AM - 10PM.

Weinhart Design has lots of other items new and used and if you're in Los Angeles or visiting please accept my invitation to experience our World Class Audio Showroom and please visit our web site @ www.weinhartdesign.com

We are always interested in purchasing quality Audio and Video items, LP collections and most quality trades are welcomed.
All sales out of California are State Sales Tax exempt.
California State Sales Tax of 9.5% applies for items picked up or shipped to a California address.

We accept payments by Bank Wire Transfers without fees and is the only form of payment on all sales out of the U.S. and Canada. We prefer this method of payment and also makes shipping to addresses other than billing agreeable.
VISA, MC and Papal are gladly accepted within the U.S. and Canada as long as the charge is approved and shipping to the billing address on record and adds 3% to cover costs.

Please call me directly in my world class showroom in Los Angeles weekdays @
310-472-8880 or any reasonable time on my cell including weekends @
310-927-2260 and I can answer your questions and help you with all of your new and pre owned needs.
 Changing the Way You Listen, 


          David Weinhart
       Weinhart Design, Inc.
         President & CEO
[email protected]
  www.weinhartdesign.com

The Audio and Video Expert
2337 Roscomare Road, Studio #1
Los Angeles, California 90077
Showroom) 310-472-8880
        Cell) 310-927-2260
member since February 2006
Weinhart Design Verified Dealer
| | | |
| --- | --- | --- |
| Last 12 months | 162 | 100.0% |
| All-time | 2343 | 99.4% |
Items from this seller