Sorry, this listing has ended.
You may like one of these similar items:
---
McIntosh MCD-205 multi Disk & D-100 DAC [Expired]
---
---
McIntosh rare and desirable MCD-205 FIVE Disk CD Player / Transport and matching Digital Pre Amplifier / DAC with McIntosh System Remote as new...

Please no low offers considered.
MCIntosh MCD-205: This rare desirable CD changer utilizes the renowned Music Bank system developed and manufactured by Nakamichi in the 1990's. It quickly and efficiently manages 5 discs via a single loading slot. Its super easy to operate and very responsive.
It features the typical and sought after look of all McIntosh equipment, including the backlit glass faceplate with gold lettering which looks at home with all McIntosh gear, modern and vintage.
Rear panel connections include: a stereo pair of XLR balanced outputs and RCA unbalanced outputs, Coaxial/Digital Outputs should you have a preferred DAC, McIntosh Power Control In/Out, McIntosh Data In, IR In, and an RS-232 control connector.
MCD-205 Owner's Manual available on line.
Performance Features:
• Advanced Transport
The new MusicBank Mechanism with direct loading, provides safe and gentle disc handling for up to five discs. The playing surface of the disc is never touched by the mechanism, only the outside edges of the disc.

• 24 BIT Digital to Analog Converters
The MCD205 utilizes 24-bit D/A converters that offer wide dynamic range with extremely low distortion. Music at all levels is reproduced with extreme precision and elegance. The sound is truly exceptional.

• Four Playback Modes
The MCD205 Compact Disc Player allows for Single Disc Play, All Disc Play, Program Play and Random Playback.

• Special Power Supply
A fully regulated Power Supply with a special R-Core Power Transformer, ensures stable noise free operation even though the power line varies.
Specifications:
Frequency Response
+0, -0.5 dB 5Hz to 20,000Hz

Signal to Noise Ratio
108dB (IHF A-weighted)

Dynamic Range
100dB
Harmonic Distortion
0.002% maximum

Channel Separation
105dB

Maximum Output level
2.0 Vrms Balanced
2.0 Vrms Unbalanced

Output Impedance
600 ohms Balanced
600 ohms Unbalanced

Sampling Frequency
44,100Hz

D/A Converter
24-bit dual converters with 8 times oversampling digital filter

Error Correction
CIRC

Quantization
16-bit linear

Digital Output
Optical: -15dbm to -21dbm
Coaxial: 0.5V p-p/75 ohm

Transport Signal Readout Type
Semiconductor Optical Laser

Disc Rotational Velocity
200 to 500rpm (constant linear velocity)

Wow and Flutter
Below current measurement limits

Dimensions
Front Panel: 17-1/2 inches (44.5cm) wide, 5-3/8 inches (13.7cm) high, depth behind front mounting panel is 15 inches (38.1cm) including clearance for connectors. Panel clearance required in front of mounting panel is 3/4 inch (1.9cm).
Note: When a CD Disc is inserted or ejected the panel clearance required in front of mounting panel is 3-3/4 inches (9.5cm).

Weight
21 pounds (9.5Kg) net
35 pounds (15.9Kg) in shipping carton
=========================================================
McINTOSH D100: 'A SOLID AND ENTERTAINING PERFORMER' WITH PLENTY OF FUNCTIONALITY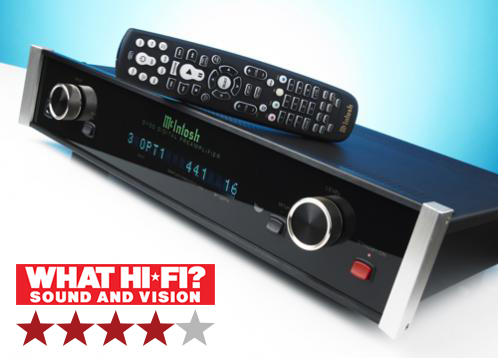 What Hi Fi reviewed the D100 Digital Preamplifier and awarded it 4 out of 5 stars. They noted its solid build quality, robust-feeling controls and glass front panel all complement the nicely finished casework. They said it's clear that some thought was put into the headphone amplifier. "Usually headphone circuits, even on high-end products (if they're included at all), are an afterthought – and they sound it, often lacking transparency and dynamics," but the D100 headphone amp sounds consistent with the main line-level outputs. They concluded that "regardless of source the D100 has an appealing balance of agility and refinement."

(WhatHiFi.com / June 2013)
=============================
It is best to call David and visit: www.weinhartdesign.com with question in Los Angeles Showroom 310-472-8880 or on my cell after hours and weekends 310-927-2260 any time from 10AM - 10PM.
WeinhartDesign has lots of other items new and used and if you're in Los
Angeles or visiting please accept my invitation to experience our World
Class Audio Showroom and please visit our web site @
www.weinhartdesign.com

We are always interested in purchasing quality Audio and Video items, LP collections and most quality trades are welcomed.
All sales out of California are State Sales Tax exempt.
California State Sales Tax of 9.5% applies for items picked up or shipped to a California address.

We accept payments by Bank Wire Transfers without fees and is the only
form of payment on all sales out of the U.S. and Canada. We prefer this
method of payment and also makes shipping to addresses other than
billing agreeable.
VISA, MC and Papal are gladly accepted within the U.S. and Canada as long as the charge is approved and shipping to the billing address on record and adds 3% to cover costs.

Please call me directly in my world class showroom in Los Angeles weekdays @
310-472-8880 or any reasonable time on my cell including weekends @
310-927-2260 and I can answer your questions and help you with all of
your new and pre owned needs.
Please check out special items from this seller on the Audiogon Dealer hub.
Weinhart Design The AV Experts E-STORE

Changing the Way You Listen,
David Weinhart
Weinhart Design, Inc.
President & CEO
[email protected]
www.weinhartdesign.com
The Audio and Video Expert
2337 Roscomare Road, Studio #1
Los Angeles, California 90077
Showroom) 310-472-8880
Cell) 310-927-2260

member since February 2006
Weinhart Design Verified Dealer
| | | |
| --- | --- | --- |
| Last 12 months | 153 | 100.0% |
| All-time | 2715 | 99.5% |
Items from this seller