Sorry, this listing has ended.
You may like one of these similar items:
---
Meridian 568.2mm Pre / Sur Processor [Expired]
---
---
Meridian 568.2MM pre amplifier, Surround Music & Film processor:
Authorized Meridian service upgraded this to 568.2MM and includes the documentation and comes with the later system remote that is programmable to accept most remotes on the all in the Meridian System remote.

Meridian's Tri-Field is Highly recommended to play Music on a Theater Surround System and have the Stereo sound be better if your system is balanced. Even Michael Fremer in review's prefers Tri-Field.

We were Meridian's Top West Coast Dealer.
I Reviewed the Meridian 568 surround processor in the December 2000 SGHT, and since then I've used it almost continuously in one of my two systems. So I was expectantly curious when I discovered that Meridian was sending out their new 568.2 processor ($6995) to replace it, along with the new, companion 598 DVD-Audio player. (Actually, they sent me the 568.2MM, which includes the multichannel input module and lists for $7745.)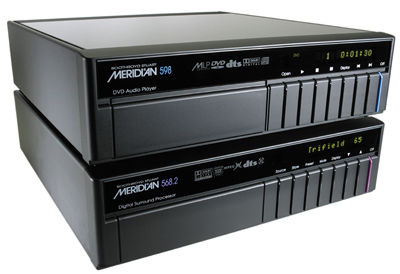 According to Meridian, the 568.2 offers major improvements over the 568 in internal topology, ergonomic flexibility, and sonic performance. Sounds like Meridian has come up with a worthy replacement—but let's see if the improvements are substantial enough to lure 568 owners to the 568.2.
Changes for the Better
Until recently, the DVD-Audio format was crippleware. Software suppliers insisted that high-definition digital sources be converted to analog before being allowed out of the player, in order to prevent the possibility of being digitally copied. This is colossally stupid. Restricting DVD-A to analog output requires the user to make one of several equally compromised choices. If the player has its own bass management, you can use that. But most current DVD-A players don't have bass management, and even if they did, using a DVD-A player's digital-to-analog converters rather than those in an A/V processor could mean lower sound quality. The converters in a top-quality processor are often noticeably better than what you find in many DVD-A players.
Some A/V processors let you convert the six discrete analog inputs from the player to digital at the processor's input, so that the A/V processor can then use its own, sophisticated bass-management system. But this adds a sonically risky and unnecessary cycle of digital-to-analog and analog-to-digital conversion.
Two last options would be to add a outboard bass-management box such as the Outlaw ICBM, or use full-range speakers all around. Both increase system cost and, in the case of the full-range (and generally larger) speakers, further crowd the home theater room. And none of these solutions gets rid of that tangle of cables coming out of the player, which do nothing but satisfy the content-protection fixation of the record labels.
Meridian has come up with an elegant solution for this technological logjam. The 568.2MM and 598DP have something called the Meridian High Resolution (MHR) Smart Link connection, which sends encrypted hi-rez digital signals from Meridian's DVD-A players to their A/V processors so they don't have to be converted to analog, then reconverted to digital to take advantage of the processor's bass-management and DSP functions. Finally, the true potential of high-bit-rate, multichannel digital music can be heard without needless, politically mandated sonic degradation. The customized bass-management settings established for other sources can be used with DVD-A material as well.
Along with MHR Smart Link, the 568.2MM has a new DSP engine with five redesigned, 48-bit hardware devices. Now Meridian's music modes can be used with any digital or analog source. To further maximize fidelity, the 568.2MM upsamples all 16-bit/44.1kHz and 48kHz digital sources to 24-bit/96kHz resolution before any digital processing. Like the 568, the 568.2MM offers balanced XLR and single-ended RCA outputs for the three front channels. For systems using Meridian digital speakers, the 568.2MM can support up to eight digital output channels at 24/96 resolution. Armed with the Meridian Communication system, the 568.2MM can talk with other Meridian components so that all can work together to do their owner's bidding quickly and transparently.
The New Kid on the Block
The front panel of the 598 DVD-Audio player closely resembles that of Meridian's 596 DVD-Video machine. Only the blue (instead of turquoise) On/Off switch hints at the differences that lie within. Meridian sent me the 598DP ($5595), with progressive-scan video component outputs and the MHR Smart Link digital DVD-A connection for use with the 568.2MM.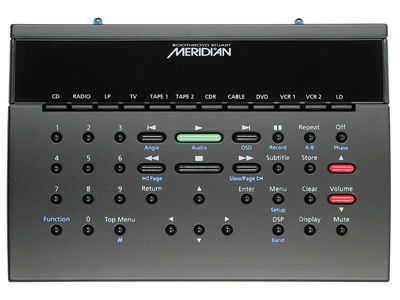 Actually, there are four different versions of the Meridian 598. In addition to the 598DP, the 598DC ($5195) offers the same digital audio outputs but lacks progressive capabilities. The 598AP ($5995) has only analog outputs for DVD-A and progressive-scan video outputs; and the 598AC ($5495) offers analog DVD-A outputs combined with interlaced video. Your choice of configuration will depend on the other components in your home-theater system.
If you need external video switching, the newly revised Meridian 562V.3 multimedia controller offers a pair of component inputs, as well as myriad other input and output options.
Sound
After I'd installed the new Meridian 568.2MM and 598DP, it took only a few minutes to configure the system using a borrowed PC and Meridian's Windows-based setup program. At first I was more aware of the 568 and 568.2MM's similarities than of any differences between them. Meridian's consummate musicality and ergonomic elegance made it possible to enjoy any musical source to its fullest, be it an old monophonic LP or a brand-new DVD-A disc.
Regardless of the source, Meridian's DSP functions also let me custom-tailor the sound. Faith Hill's latest DVD-A, Cry (Warner Bros. 48001-9), is a good example. Surround mixer Elliot Scheiner opted not to use the center channel, which moves Hill's voice from the front of the soundstage to deep within the mix. Using the Meridian's Ambisonic music mode, I could restore the center channel and move Hill's voice back to where it was on the original 2-channel CD—front and center.
The Grateful Dead's American Beauty (Rhino R9 74385) also benefited from the Ambisonic treatment, which made this recording sound more immediate, intimate, and involving. The Discrete mode, which adds no DSP processing, let me hear all the natural ambience of such well-recorded multichannel DVD-As as Zubin Mehta conducting Mahler's Symphony No.2 (Teldec 4509-94545-9).
I've had other DVD-Audio players in my system, but until I heard the 568.2MM and 598DP combination, I never realized how fine DVD-As can sound. Eliminating the sonically hobbling effects of converting from digital to analog and back again, and not having to settle for a DVD-A player's primitive bass-management system, sonically liberated DVD-As to a degree that must be heard to be fully appreciated. The MHR Smart Link made any other DVD-A connection sound like two Dixie cups and a length of string.
Image
Meridian opted not to include a 480p output on their 596 DVD player. Their rationale was that anyone buying a Meridian system already owns or is planning to buy an outboard image processor to upsample video sources to 480p or greater. Having since realized that many owners and potential owners didn't have or want an outboard processor, Meridian has included a 480p output on the 598DP. To optimize the video output, Meridian uses Faroudja's Directional Correlational Deinterlacing (DCDi) motion- and color-correction circuitry. (Those who have displays with good onboard deinterlacers and scalers—including the increasing number that also incorporate DCDi circuitry—might well save money by choosing one of the interlace-only 598s.)
The resulting picture looked as good as any 480p output I've seen. Because my Faroudja Native Rate digital video processor is set for 720p, all 480p sources look slightly soft by comparison—but the Meridian 598DP's color fidelity, lack of motion artifacts, and overall picture quality gleaned all that can be expected from a 480p signal.
Compared with the EAD DVDMaster 8000 and my Toshiba SD-3109 modified with the Cine-metrix output board, the Meridian 598DP held its own. I saw minor differences in color palettes between the EAD and the Meridian—the EAD having slightly more color saturation at its middle setting—but their resolution was identical. The Toshiba SD-3109 is ever so slightly sharper when set to 525p output, but the Meridian 598DP did a better job of minimizing motion artifacts than the Cinemetrix board.
Good, Better, Best
The latest incarnation of Meridian's 568 processor, the 568.2MM, maintains its forebear's levels of ergonomic and sonic quality. Coupled to the new 598DP DVD-Audio player via Meridian's MHR Smart Link, the 568.2MM let me hear the full sonic potential of DVD-Audio discs. This alone makes the combination worthy of the highest accolades. I warn you, even a short audition of the 568.2MM/598DP combo may well leave you with a longing that can be assuaged only by ownership.
-----------------------------------------------------------------------------------------
* * * We are always interested in purchasing quality Audio and Video items, LP collections and quality trades are welcomed. * * *
Please feel free to view our other used items for sale on Audiogon or come to our website to view our new products and see the exciting new lines we have to offer you like Bowers & Wilkins, Bryston, Aqua Acoustics, Rel Acoustics, Synergistic Research, Roon Labs, Pro-ject, Marantz and many others.
We are proud to be the dealers representing the new B&W Series 4 Diamond speakers (call for appointment).
==================================
It is best to call David and visit:

www.weinhartdesign.com

with questions or come to our Los Angeles Showroom

310-472-8880

or on my cell after hours and weekends

310-927-2260

any time from 10AM - 7PM PST.
Weinhart Design has lots of other items new and used and if you're in Los Angeles or visiting please accept my invitation to experience our World Class Audio Showroom and please visit our web site @ www.weinhartdesign.com
We accept payments by Bank Wire Transfers without fees and is the only form of payment on all sales out of the U.S. and Canada.
We prefer this method of payment and also makes shipping to addresses other than billing agreeable. VISA, MC and Papal are gladly accepted within the U.S. and Canada as long as the charge is approved and shipping to the billing address is to the one on record and plus 3% to cover card service costs.
Please call me directly in my world class showroom in Los Angeles weekdays @

310-472-8880

or any reasonable time on my cell including weekends @

310-927-2260

and I can answer your questions and help you with all of your new and pre owned needs.
Making Better Systems on System at a time,
David Weinhart
President & CEO [email protected]
The Audio and Video Experts
Visit our Weinhart Design The AV Experts STORE:
2337 Roscomare Road, Studio #1
Los Angeles, California 90077
(Showroom) 310-472-8880
(Cell) 310-927-2260 10AM-7PM West coast time
🎶🎵🎶
member since February 2006
Weinhart Design Verified Dealer
| | | |
| --- | --- | --- |
| Last 12 months | 150 | 100.0% |
| All-time | 2715 | 99.5% |
Items from this seller