Sorry, this listing has ended.
You may like one of these similar items:
---
LKV Research Veros One Phono Stage Positive Feedback Award Winner [Expired]
---
---
(Price Lowered)  Highly regarded LVK Research Veros One phono stage, Pure Class A, Zero Feedback, dual mono design, featuring regulated outboard power supply with ground defeat options and will easily accommodate MM, MC, MI, low, med. and high output phono cartridges.  XLR and RCA type input/output terminations standard.  For those who may not be familiar, this Bill Hutchins design offers an incredibly neutral, balanced and
ultra quiet
solid state phono stage and in my personal opinion you will be hard pressed to find a better stand alone phono stage for under $10k.  This is a low hour, one meticulous owner consignment model, and includes factory user manual plus original packing materials.  Conservative 9/10 rating but closer to a flawless 10/10 in reality.   
Serious inquires please, no trades.  Call me directly at 219.933.8115 or email info@artisanfidelity.com for more details.  PayPal, Credit Card, Bank wire, check accepted. 
Christopher Thornton
Artisan Fidelity
219.933.8115
info@artisanfidelity.com
LKV Research Veros One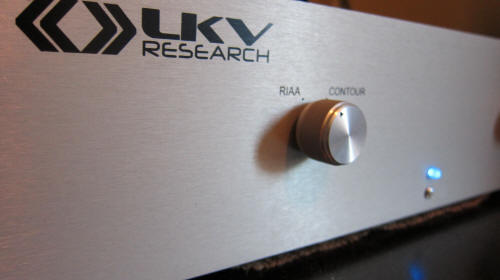 One of the best sounding phonostages I've heard. Contains many options to allow almost infinite combinations of music / cartridges / vinyl as well as a no-holds-barred external power supply keeping all of the noisy components out of the way of the music. You can tell a lot of thought and time went into this product and it deserves to be recognized.
So, there you have it. The LKV Veros One is now the holy grail of phonostages, in my opinion, and I implore you to try one if you haven't already, there is definitely something you are missing from your system if you haven't.
Thanks for listening. Pete Davey
LKV Research
http://www.lkvresearch.com
The LKV Veros One
The Ultimate in Musically Engaging and Accurate LP Reproduction



The Veros One, LKV Research's top-of-the-line phono preamp, provides the ultimate in musically accurate LP reproduction.  Designed by Bill Hutchins, creator of LKV's  highly acclaimed Phono 2-SB, the Veros One takes the excellent performance of the 2-SB to a higher level with premium parts; innovative RIAA circuitry; accurate, extremely quiet gain blocks; increased dynamic headroom; revised power supply regulation and filtering; and an output buffer that delivers astonishingly good performance even into low impedances. 
Moreover, the Veros offers the user convenient, panel mounted switches to select among 10 cartridge loading options and two equalization curves: the precisely accurate "RIAA" network, and the warmer sounding "Contour" network.  Like the Phono 2-SB, the Veros One accepts balanced and single ended inputs and delivers its output in either mode.
The result is a phono stage that removes the remaining veils between the listener and the music.  The soundstage is deep and the images within it, precise and solid. The music arises out of a still, black background revealing all the low level information that is critical to the meaning and emotional impact of the music.  Dynamics are startling.  The sound is detailed but natural and harmonically true.
Features of the LKV Veros One preamplifier:
Very low noise and distortion gain blocks that employ:
Fully differential, class A, zero feedback amplifier circuits implemented entirely with discrete components.
Low noise jfets that are hand matched to very tight tolerances (less than +/- 0. I mA Idss) and are biased into their most linear operating regions.
Cascode gain circuitry and stiff current source biasing that create a stable environment which allow the jfets to amplify accurately.
Two user selectable equalization networks:
An RIAA network that achieves an accuracy of +/- 0.1 dB by virtue of 0.1% metal film resistors and 1% tolerance polypropylene capacitors.
A contour network that allows the user to select a slightly warmer, more tube-like sound.
Balanced and single ended inputs and outputs:
Balanced out – 4 choices from 40 dB to 68 dB.
Single ended out – 4 choices from 34 dB to 62 dB.
Construction and components that are optimized for sound quality:
Dual mono construction to reduce crosstalk and enhance imaging.
Four layer circuit boards minimize the length of signal and ground traces to prevent noise.
Only 0.1% tolerance metal film resistors are used in the RIAA and contour networks and in the differential amplifiers.  All other resistors are Vishay/Dale metal film 1% tolerance.
Only polypropylene capacitors are used in the signal path.                                                                          
High current jfet output buffer.
Separate power supply:
Custom designed 45 VA toroidal power transformer.
Built-in RFI line filter
Low-noise HEXFRED rectifier diodes.
Extensive on-board voltage regulation and R/C filtering assure clean, stable power supply rails for the gain circuitry.
Soft start protection to prevent component failure
Positive Feedback Magazine Review and Award for the Veros One
Pete Davey summed up his recent review of the LKV Veros One by saying, "So, there you have it. The LKV Veros One is now the holy grail of phonostages, in my opinion, and I implore you to try one if you haven't already, there is definitely something you are missing from your system if you haven't."
Positive Feedback also honored the Veros One as one the best that they've reviewed during the course of the year."
Seller Information
chris74
chris74 Verified Dealer
| | | |
| --- | --- | --- |
| Last 12 months | 12 | 100.0% |
| All-time | 318 | 100.0% |
Member since January 2003