Sorry, this listing has ended.
You may like one of these similar items:
---
Cary Audio Design CAD-120s mkII CURRENT CARY MODEL. PRICE DECREASE AND FREE SHIPPING [Expired]
---
---
Highly reviewed and rated made in USA incredibly powerful tube amp. Rated 60 wpc in triode and a whopping 120 wpc in ultra linear. Plays both rock, jazz and the most detailed classical music with ease. Reviews say "wonderful tube midrange, beautiful smooth top end, and very good bass depth and impact. 
Frequency range 17 hz to 23 kHz
From Cary website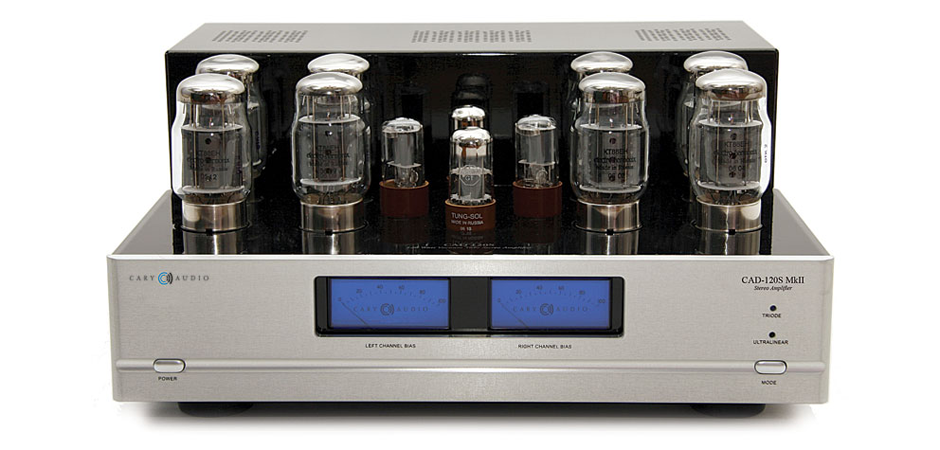 About the CAD-120S MkII amplifier
Cary Audio has almost always offered stereo tube power amplifiers, and the CAD-120S MkII is the latest in this long line of award-winning, top-rated amplifiers. The new MkII version of our most popular power amplifier features a boosted sensitivity and reduced level of global feedback, allowing it to be used with a wider variety of other preamplifiers to produce a larger soundstage with more apparent musical detail.
Fully differentially-balanced, like most Cary Audio products, the CAD-120S MkII offers both RCA single-ended and XLR balanced inputs to match any associated equipment. Front panel meters continually monitor the bias current to the tubes, helping you easily keep the amplifier operating at its peak efficiency. A huge power supply provides plenty of current storage to handle peak demands of your music. It can be switched on the fly from triode mode (Class A) at 60 watts per channel, to ultralinear mode (Class AB) at 120 watts per channel. This lets you enjoy the greatest possible minute details of your more delicate music, or ask for much more power when you want to turn it up a few notches. The CAD-120S MkII can make almost any system sound its very best in your home.
From Stereophile magazine:
In contrast, both the Cary SLP-03 preamp and the Cary CAD-120SII produce a sound that emphasizes the natural warmth of the midrange and upper bass, and that produces musically natural upper-octave energy without losing the highs you hear in live music. They also both set a soundstage that slightly emphasizes depth over width in comparison to many other preamps and amplifiers—when the music permits. Detail is natural, centerfill is excellent, and imaging is as about as realistic in size and as stable as the recording and the rest of your system and set up permit. Applause is more realistic, and sounds like the rustling of scores do not alter to emphasize the higher frequencies. Flute, clarinet, and piano have transients and peaks that sound musically realistic; the brass has bite without being hard, and female voice does not lose its warmth or emphasize sibilants and breathing sounds.
Outstanding Cary tube amp in great condition . Very conservatively rated a 8. Upgraded with all shuguang Treasure KT-88-Z and CV181-Z tubes with less than 200 hours.  (Tubes alone retail for over $1200). I am original owner. Amp was recommended to me and bought from Acoustic Image in Southern California. Acoustic Image is owned and operated by Elliot Midwood, the premier hifi expert in the area.  
Price includes shipping to CONUS and Paypal fees.
Seller Information
| | | |
| --- | --- | --- |
| Last 12 months | 21 | 100.0% |
| All-time | 102 | 100.0% |
Member since March 2009
Items from this seller