Sorry, this listing has ended.
You may like one of these similar items:
---
Furutech deMag LP,Disc and Cable Demagnetizer [Expired]
---
---
Furutech deMag LP, Disc, and Cable Demagnetizer !
Highly recommended for either LP's or CD's.  It is not subtle the improvements.

                                               Copied from on line:
Quite some aspirations for this device. We already knew of the theory behind why demagnetizing CDs nets audible results. The aluminum used for the reflective CD layer is contaminated with ferrous impurities and thus susceptible to magnetizing. Ditto for the ink used for printing the label. When the CD spins at up to 500 RPM, these ferrous particles begin to act as magnets as they are moving in a -- however small -- magnetic field. Let's assume that after an hour's play, all magnetizable particles have activated. We'll thus have a fair amount of magnets rotating inside a magnetic field. Little imagination is required to appreciate that such magnets could have a detrimental effect on all electronic circuits in the vicinity. As we have reported in our article on copying CDs to improve their sound quality, a great deal of the CD system is analog in nature and thus very much prone to external influences such as moving magnetic fields.
Earlier versions of demagnetizers by Furutech like the RD-2 enjoyed very positive reviews and those who acquired them still seem to use theirs. The sound clears up, the noise floor drops and the overall music retrieved from the CD (or any other optical music storage format) becomes airier, more relaxed and more detailed.
The RD-2 demagnetizer can also be used to demagnetize cables. Due to its small size, however, one has to either coil the cable to make it fit on the CD-sized machine or pass it through lengthwise in several demagnetizing passes.
With the DeMag, Furutech attacks those practical drawbacks. Due to the larger usable area, a batch of discs can now be treated at the same time. Prepare a preselected collection of discs in advance and your home concert can proceed without demagging after every disc. Secondly, cables can now be treated in a more fashionable way. Except for ultra exotic stiffness cables, most wires can be coiled into a 35cm diameter hoop without issue. The large working surface also opens up treatment of other device that might get magnetized in an audio system such as CD pucks for instance.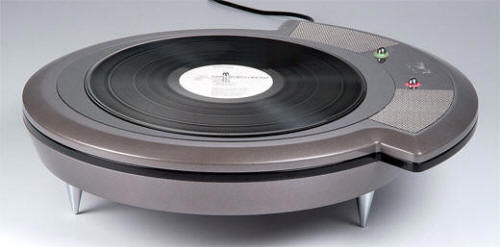 Weinhart Design is always interested in purchasing quality Audio, LP collections, specialists buying Audio Estates and interested in most quality trades in's.
                                            We are here to earn your trust & business.

All sales out of California are State Sales Tax exempt. California State Sales Tax of 9% applies for items picked up or shipped to a California address.
We accept payments by Bank Wire Transfers without fees and is the only form of payment on all sales out of the U.S. and Canada. We prefer this method of payment and also makes shipping to addresses other than 
billing OK.
VISA, MC and Papal are gladly accepted within the U.S. and Canada as long as the charge is approved and were shipping to the BILLING ADDRESS and shipping to the billing address on record and adds a 3% fee to cover costs and DISCOVER & AMEX 4% to cover costs..
Please visit our "ALL NEW & Improved Web Site @ www.weinhartdesign.com

Call me directly in my Audio showroom in Los Angeles weekdays from 11-4PM @ 310-472-8880 or on my cell including weekends from 10-10PM at 310-927-2260 and I can answer your questions and help you with all of your new and pre owned needs.





Making better Sound One 
    system at at a time,





     David Weinhart
Weinhart Design, Inc. 
   President & CEO 

The Audio and Video Expert 
e: david@weinhartdesign.com 
   www.weinhartdesign.com
2337 Roscomare Road, Studio #1 
Los Angeles, California 90077
  Showroom) 310-472-8880 
       Cell) 310-927-2260 

Seller Information
davidamb
Weinhart Design Verified Dealer
| | | |
| --- | --- | --- |
| Last 12 months | 216 | 100.0% |
| All-time | 2115 | 99.3% |
Member since February 2006