Sorry, this listing has ended.
You may like one of these similar items:
---
Synergistic Research Copper, Tungsten, Silver Top Element 1.5m XLR's ! [Expired]
---
---
Synergistic Research Element Copper, Tungsten, Silver 1.5 Meter XLR / Balanced Interconnects: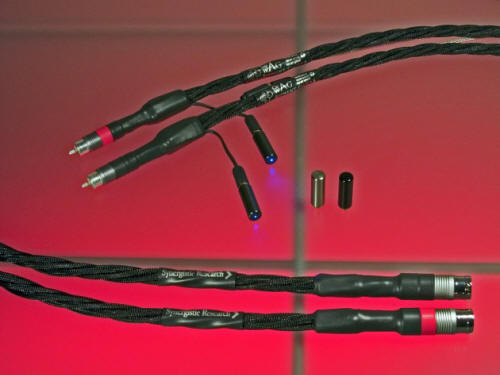 Comes with two Black, two Grey & two Silver Bullets, one two lead Power supply.

Highly recommended and this model is the same model we used in Weinhart Design's Reference System.


        1.5 meter Balanced pair with FACTORY box 8/10 as new ONLY: $1,349.

                                         ( ( ( No low offers considered ) ) )
See Positive Feedback Rave Review @ http://positive-feedback.com/Issue70/synergistic_cts.htm

                                  Positive Feedback / Final Thoughts:
The Synergistic Research Element CTS series continues to amaze as I work my way through my favorite CDs, SACDs and LPs. I am hearing things that I have never heard before with titles that I have played hundreds of times if not more. I have not been this inspired to spend this many hours rediscovering my collection in several years. Even family members seem to be slipping in and spending more time with me in the listening room.
Out of the box design choices and creative execution of these choices are intriguing if not admirable. Build quality is superb. The ability to customize on several levels provides unique flexibility and adaptability. Most importantly, over all sound quality surpasses every other wire offering that I have auditioned in my system. Very highly recommended! Robert S. Youman
==========================================================================

Element Copper-Tungsten-Silver Interconnects – RCA/XLR with Tuning Circuits:

                                     Element Copper Tungsten Silver:
Combines the best traits of each element for the most balanced and highest resolution interconnect in the Element Series. Imagine the low frequency authority of copper, the holographic sound staging of Tungsten and the refinement and resolution of silver combined in one cable. This is by far the highest performance interconnect we have ever manufactured excluding the Galileo System interconnects which are nearly 10 times the Element CTS's price and arguably this is the highest performance
interconnect option your can choose from any manufacturer at any price including flagship products from our competitors. Add a Galileo Universal Interconnect Cell and you truly have a state-of-the-art interconnect that comes very close to our flagship Galileo System cables.


Combines the best traits of Copper and Tungsten and Silver
Silver delivers the highest level of frequency information
The most balanced of all Element Series cables


Listening notes and findings for Element Silver:
"Silver has a deep sound stage in a well rounded polite and non offensive presentation. Absolutely no glare or grain in the upper registers. Balance is the word that comes to mind"
Of course silver is only one of three elements found in Element Copper / Tungsten / Silver. For more information on how each of these three elements stack up visit the
Element Series Overview (see below) :
                                     Hand Made in our California !

                            < ============================= >
Weinhart Design has lots of other items new and used and if you're in Los Angeles or
visiting please accept my invitation to experience our World Class Audio Showroom by appointment and please visit our web site www.weinhartdesign.com
We are always interested in purchasing quality Audio items, LP collections, specialists buying Audio Estates and most quality trades are welcomed.
All sales out of California are State Sales Tax exempt. California State Sales Tax of 9.25% applies for items picked up or shipped to a California address.
We accept payments by Bank Wire Transfers without fees and is the only form of payment on all sales out of the U.S. and Canada. We prefer this method of payment and also makes shipping to addresses other than billing OK.
VISA, MC and Papal are gladly accepted within the U.S. and Canada as long as the charge is approved and were shipping to the BILLING ADDRESS and shipping to the billing address on record and adds a 3% fee to cover costs.
Please call me directly in my world class showroom in Los Angeles weekdays
from 11-4PM @ 310-472-8880 or on my cell including weekends from 10-10PM
at 310-927-2260 and I can answer your questions and help you with all of your new and pre owned needs.


   Making better Sound
 One system at at a time,
David Weinhart
Weinhart Design, Inc.
President & CEO

The Audio and Video Expert
e: david@weinhartdesign.com
www.weinhartdesign.com
2337 Roscomare Road, Studio #1
Los Angeles, California 90077
Showroom) 310-472-8880
Cell) 310-927-2260
Seller Information
davidamb
Weinhart Design Verified Dealer
| | | |
| --- | --- | --- |
| Last 12 months | 219 | 100.0% |
| All-time | 2121 | 99.3% |
Member since February 2006