PS Audio BHK Signature mono amplifiers New 300 watt mono amps-Call for our great trade deals
Listing ID: lis9bg0e
Classified
Listed
·
846 Views
| | |
| --- | --- |
| Condition | NEW |
| Payment methods | |
| | Contact seller after sale to pay via VISA/Mastercard, American Express, Discover, Certified check or Wire Transfer |
| Ships from | Broomfield, CO, 80020 |
| Ships to | United States |
| Package dimensions | 24.0" × 20.0" × 12.0" (184.0 lbs.) |
| Shipping carrier | FedEx |
| Shipping cost | Free |
| Original accessories | Box, Manual |
| Average | Research Pricing |
      Ask us about 6 MONTHS NO PAYMENTS or INTEREST thru PayPal

  Call us to discuss this as well as all other PS products. Tremendous trade-in deals ongoing.


      FREE Freight in the lower 48 states

One PERFECT 10/10 Black photo set available. Call to discuss.



The PS amps compete with the best amps made for sound quality at a fraction of their cost. Reviews have been superb comparing the amps to competition selling for more than double their price.

"The first amplifier I gave up a lifetime obsession with tubes for"
Arnie Nudell, founder, Infinity Systems.
BHK Signature amplifier-Clearance Sale now ongoing
$7499.00 in stereo

$14998.00 a pair in mono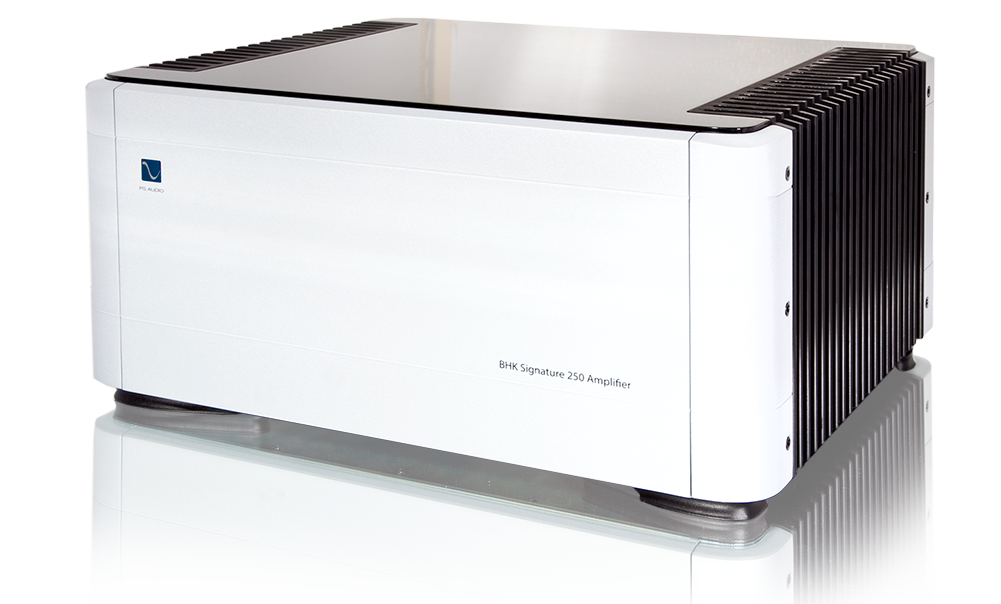 BHK amp shown in silver, also available in black
The
BHK Signature features a zero-loss vacuum tube input stage coupled to a
high bias deferentially balanced MOSFET output. This amplifier has few
rivals at any price and produces 250 watts per channel into 8 ohms.
The
BHK Signature power amplifier culminates one man's life long quest for
perfection in power amplification. Bascom H. King's magnum opus combines
a vacuum tube input with a powerful MOSFET output capable of either
250/500 watts per channel in the Stereo 250, or 300/600 watts in the
mighty Mono 300.  The BHK Signature Series amplifiers can drive any
loudspeaker to musical perfection and is the second most important
element in your music reproduction chain behind the loudspeaker itself.


Zero-loss vacuum tube input stage


Mono version fully paralleled inside (not like a traditional bridged approach)


Differentially coupled balanced MOSFET output stage


All through hole construction (no surface mount parts)


RCA Single ended input


XLR balanced input


250 watts per channel 8Ω Signature 250 stereo


500 watts per channel 4Ω Signature 250 stereo


2Ω stable Signature 250 stereo


300 watts 8Ω Signature 300 mono


600 watts 4Ω Signature 300 mono


1000 watts 2Ω Signature 300 mono


Less than 0.1% thd 20Hz to 20kHz at rated power


Damping factor 100 for excellent loudspeaker control


Front panel standby button for vacuum tube input


-3dB greater than 200kHz


Dual, custom, solid copper, gold plated output binding posts


Fully balanced from input to output


83 pounds


Input 12 volt trigger


Easy access for tubes


All units come with the 3-year PS factory warranty.


We accept PayPal, AMEX, Visa, Discover and MasterCard as well as money orders.
Read our AudiogoN #1 rated feedback and call me at 770-667-5633 with questions or to order.
GA & HI residents add sales tax
Brands carried: Acoustic Zen, AGD GAN amplifiers, Audio Space tube electronics, Audeze headphones, Audio Alchemy, Auralic streaming devices & DAC's,Black Ice Audio, Bob Carver tube amplifiers & Loudspeakers, Burson Audio, Core Power Technologies A/V, DSPeaker room correction products, EAT Turntables, ELAC Speakers, Emerald Physics Loudspeakers amplifiers & DSP Crossovers, Focal headphones, Gallo speakers, Graham Slee, HifiMan headphones, Iso-Acoustics, Jolida tube electronics, LSA Speakers, Lehmann phono stages, Marantz Reference, Melco servers, Micromega, MOFI Turntables, MrSpeakers headphones, Musical Fidelity, Music Hall turntables, Ortofon cartridges, Outlaw Audio, Peachtree Audio, Project turntables, PS Audio amps, preamps, DAC's & power regenerators, Pure Audio Labs DAC's, Quad speakers, headphones & electronics, Rethm speakers, Scansonic speakers, Spread Spectrum Ampzilla amps & preamps, Sumiko cartridges, Sweet Vinyl pop and click filters, Syzygy wireless subs w/room correction, Wireworld &  Wywires cables
Sales policies on the Underwood Hifi Inc. website at www.underwoodhifi.com
No questions have been asked about this item.
Return Policy
Return Window
Returns are not accepted on this item.
Underwood Hifi, Inc.
Verified Dealer
| | | |
| --- | --- | --- |
| Last 12 months | 210 | 100.0% |
| All-time | 13224 | 100.0% |
Items from this seller