Sorry, this listing has ended.
You may like one of these similar items:
---
NEW 2023! CANARY M350 Mk II Pure CLASS A 300B Fully balanced Tube Monoblocks [Expired]
---
---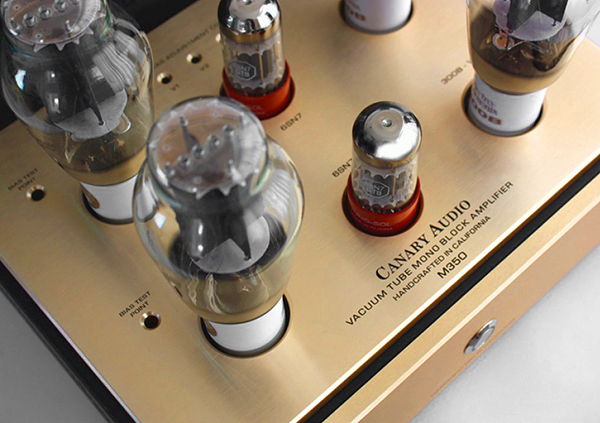 The CANARY M350 Mk1 was "2020 MOST WANTED COMPONENTS"! As of 10-18-2021 the new even higher-performance new model has been released.
NEW 2023 CANARY AUDIO M350 Mk2 TUBE MONOBLOCKS: Now available is the stunning fully balanced pure CLASS A M350 Mk2 monos with the magical quad 300B vacuum tubes from Canary Audio offering 50 Watts per monoblock. Enough power to move any high-end loudspeakers with a performance that you will feel that you are simply there. Call me for pricing during our Canary promotion that I will promise you personally that you will never be in better hands.
HOW DOES IT SOUND? In the 25 years that I have been selling the best audio amplifiers in the world, these stunning monoblocks always make it in the top ten and are arguably one of the three best 300B tube amplifiers ever made in high-end audio. The sound of these M350 Mk II monos is so realistic and true that it makes most amplifiers sound broken in comparison.

- NEW! M350 Mk2 Improved Version
- NEW! True Balanced Design with XLR Inputs
- Tubes: 4 x 300B & 2 x 6SN7 per mono block
- Custom gold-plated brass five-way binding posts
- Oversized hand-wound transformers (Custom made in the USA)
- 100% Handcrafted in California
- Full 3 Years Warranty

TRADE-INS WELCOME! CALL US!

CANARY AUDIO M350 MONOBLOCK AMPLIFIERS
Review by Larry D. Diaz from High-End Palace
I have known Canary Audio for over 20 years from seeing them at audio shows and customers' homes. I decided to become a dealer after seeing and hearing these new Canary M350's PURE Class A Reference Mono Block Amplifiers. These stunning golden pieces of art have stolen my heart visually and sonically. They have a great footprint of only 12.5" wide by 18" deep, not too big, not too small, just right and they sound as good as they look.
I tested these beautiful M350's with several superb loudspeakers and the results were beyond impressive, even with a set of the big full-range 6.4 feet tall Dynaudio Evidence Temptation loudspeakers sound was seductive, liquid-smooth with amazing airy finesse and deep bass reproduction. I was very surprised since these M350's are only 50 watts per channel but I have always known that with PURE Class A designs like these the book of watts is out the door. The current and quality of watts make them drive basically any high-end loudspeakers.
Here is a prime example! 32 Watt Class A $135,000 Lamm ML-3 Signature Mono Block Amplifiers driving the big Wilson Audio Alexandria Loudspeakers at CES.
These most likely will be the last set of monoblock amplifiers you will invest in. If you are the type of listener that likes vocal, classical, jazz, piano, and violin concertos, simply superb high-end recordings these M350's will bring new life to your world. The sound of these M350's rivals with the absolute best in the industry, they look gorgeous, the sound is glorious and they don't run hot so these will last you a lifetime.
Conclusion! The M350 Monos are priced at just $12,495, (The NEW M350 Mk2 are $14,995! Now improved, with Fully Balanced XLR inputs, and available as of 10-18-2021). an absolute deal by today's high-end standards for a set of PURE Class A Reference Mono Block Amplifiers with eight 300B tubes that reproduce pure magic. These are the kind of monoblocks that audiophiles say that they have a soul. A true reference component with top-flight fidelity!

Warm regards my audiophile friends,
Larry D. Diaz
President (CEO)
High-End Palace, LLC
The place for the world's best music systems!
Website: www.highendpalace.com
E-mail: [email protected]
Tel: 786 388-8050
DON'T FORGET TO VISIT OUR WEBSITE! WE ARE KNOWN FOR THE WORLD'S BEST TRADE-INS. FOR DEALS IN THE CERTIFIED TRADE-INS, CONSIGNMENTS & EXTRA DEMOS PAGE AT; www.highendpalace.com
member since December 2009
| | | |
| --- | --- | --- |
| Last 12 months | 3 | 100.0% |
| All-time | 909 | 100.0% |
Items from this seller