Sorry, this listing has ended.
You may like one of these similar items:
---
Joule Electra LA-150 mkII All tube Line Stage preamp! [Expired]
---
---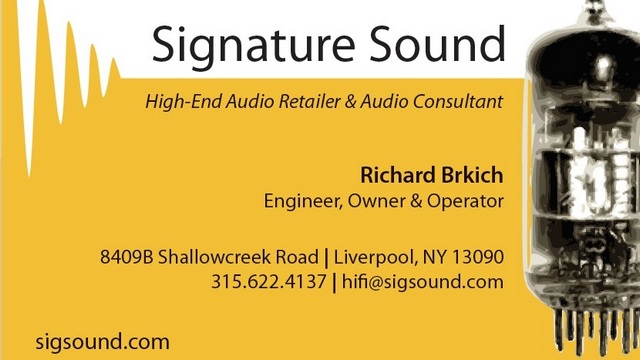 JOULE-ELECTRA LA-150MKII ALL TUBE LINE STAGE PREAMP - USED - $2,250 Plus Shipping
Fully tested, checked-out and ready to go this LP-150MKII is wonderfully balanced and musical line stage preamp. Great tone, body, and soundstage with very good bass and dynamics. This was around a $5,500 preamp when new, and this is a awesome deal for only $2,250. This is a built new (not upgraded/molested) 9 year old preamp. It is in very good to excellent condition cosmetically and operationally (I've circled the only two small flaws/marks on the faceplate in one of the pictures). It is complete with manual, remote, and factory box.
Though Joule-Electra is no longer in business, we (Rich Brkich, Signature Sound) was a Joule-Electra dealer for 15 years and I am still in touch with Joule owner/designer Jud Barber. I've been trained on the design of Joule gear by Jud and perform repairs, upgrades, and maintenance on Joule-Electra gear (references available). So, you can say this preamp has been checked by factory trained tech. All tubes are checked/tested and the line stage is biased to factory specs, all power supplies are checked for proper voltages (including filament supplies which are DC and set with adjustable regulators), output is checked for any DC offset (in case there is a leaky output coupling cap), inputs and switching are tested, the unit is cleaned inside and out and also listened to.  Note this preamp WAS wired for 240V operation and has been converted back to 120V/60Hz AC operation as per factory instructions/documentation I have.
These preamps have wonderful tone and portray a big palpable sound stage. As they are also low gain designs, the work well with today's sources which tend to have rather high output levels. Mate with a solid state power amp to add some wonderful sound to your HiFi system.
Signature Sound is a small Hi-End HiFi shop located near Syracuse New York. We have been in business since 1990. Feel free to check out our website www.sigsound.com or call us at 315-622-4137 with any questions. We accept all major credit cards and PayPal. A note to my fellow New Yorkers.... New York state residents (i.e sales billed/shipped to a New York State address) will be charged applicable local New York state sales tax on the total sale amount Signature Sound is a authorized dealer for: Audience Cables, Atma-Sphere, Clearaudio, Cardas Cables, Benz Micro Cartridges, Fried Audio Speakers, DH Labs, Dynavector, EAR USA, Grado Labs, JPS Labs, Joule-Electra, iFi Audio, Merlin Music Systems, Musical Surroundings NOVA phono preamps, Power Modules (Belles), Rega Research, Rogue Audio (NEW!), Running Springs Audio, Spendor Audio, Sonos, and Wavelength Audio.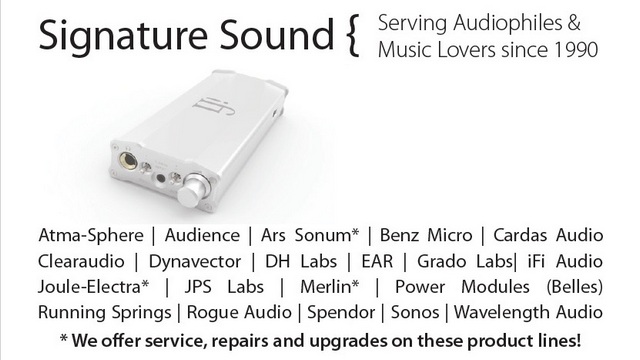 Seller Information
signaturesound
signaturesound Verified Dealer
| | | |
| --- | --- | --- |
| Last 12 months | 48 | 100.0% |
| All-time | 670 | 99.6% |
Member since November 2009
Items from this seller

Signature Sound High-End Audio E-STORE
View All Products For Sale